Club Registration
Members are encouraged to register and pay their 2020 membership for themselves and / or their children using the Clubforce app on their mobile phone or via the Clubforce webpage on your PC or other mobile device https://clubforce.com/…/gaa-four-masters-g-a-a-club-donegal/
Club Lotto
There was no winner of the Lotto Jackpot of €1,000 in Week 30 of the 2019/2020 season draw held in the Abbey Hotel on Monday February 3rd.
The €50 winners in the Lucky Dip were Brid Mc Ginley, New Row and Charlie 'Coventry' Mc Ginty, Garvagh, Barnesmore.
The numbers drawn were 3, 4, 6 & 23. New members are still welcome so why not play online now and be in with a chance of winning €1,100 on Monday 10/02/20 at https://www.myclubfinances.com/fourmasterslotto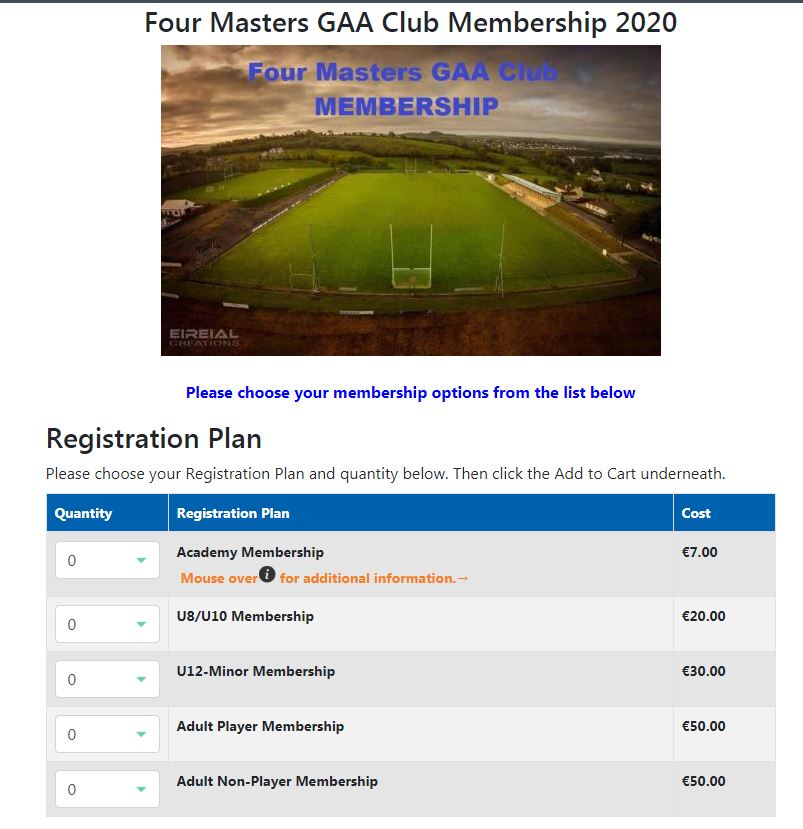 GAA Club Support Program
Club members and supporters that stay in the Croke Park hotel are encouraged to participate in their GAA Club Support Program by nominating the Four Masters club at the time of reservation.
National Draw Tickets
The Club are now selling tickets for the National Club Draw online. The tickets cost only €10.00 and there are some magnificent prizes on offer. It should be noted that the total proceeds of the tickets sold by the club remain with the club.
Purchase now at the following link https://clubforce.com/…/gaa-four-masters-g-a-a-club-donegal/
All Ireland Feile Peile na nOg
The All Ireland Feile Peile na nOg will be hosted by counties Donegal, Derry and Tyrone on 26th – 28th June this year for U14 boys and girls teams. Four Masters will be participating in this competition and will be hosting visiting boys and girls teams for the weekend. An information meeting was scheduled in St. Patrick's Parish Centre on Friday 7th February at 8:30 pm to brief parents / guardians of our U14 boys and girls teams on the format of the weekend.
Notice of forthcoming coaching courses:
Level 1:
Fri, 6 Mar 2020, 19:00 –
Sat, 14 Mar 2020, 16:30 GMT
https://eventbrite.ie/e/south-west-award-1-youth-and-adult-…
Foundation:
Sat, 15 February 2020
09:00 – 16:30 GMT
https://eventbrite.ie/e/south-west-foundation-football-cour…
Any questions please contact Luke Keaney
Club Meeting
The 1st club meeting of 2020 is scheduled to take place on Tuesday night (11th February) in the St Patrick's Parish Centre from 8pm to 9pm. All welcome.
Ireland Lights Up
Please note our Ireland Lights Up has been changed from Monday to Wednesday night from 6pm to 7pm.
Bord na nOg Training Times
Monday 10th Feb
Club Astro pitch
U14 Div 2 team 5.30pm to 7pm
U14 Div 1 team 7pm to 8.30pm
New players born 2006/2007 welcome.
By fourmasterspro
Mon 10th Feb