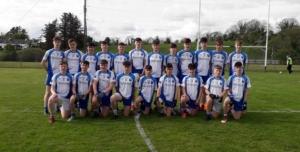 Nothing could separate our boys and Milford, not even an additional 20 minutes of extra time, on Monday 6 May 2019 in Tir Conaill Park. The large crowd in attendance witnessed an excellent game of championship football and few could argue at the outcome with both sides getting another chance to claim a semi final berth.
It was Milford who opened the scoring with a point from play before Frank Cornyn and Dermot Slevin points edged our boys ahead. Milford responded with a fine score of their own before Senan Quinn and another Dermot Slevin point pushed the lads two ahead. Our boys were having a good spell of possession with Jamie Gorrell and Senan Quinn winning the exchanges in the middle of the park, this was coupled with some fine movement from Frank Cornyn, Ross O'Keeney and Ethan McNulty and deft passing from Mark Jordan and Ultan O'Grady together with raids from half back from Evan Gallagher. This fine work was finally rewarded in the 14th minute when Mark Jordan struck the Milford net.
Milford then responded with three points of their own, punctuated by a Dermot Slevin point and while they pushed hard for another score some outstanding defensive play kept them at bay. Liam McLaughlin, who must have covered every blade of grass ten times last night, made some vital interceptions, Oisin McCallig made a good save, before Conor Gillespie made a breathtaking diving block to prevent a certain Milford score and this was followed by another blocked point attempt by Jamie Gorrell
Despite this spell of dominance Milford had to be content with a pointed free before the momentum swung back in our boys favour. Diarmuid O'Domhnaill, Andrew Monahan and Josh McCrea began to repel Milford attacks and from the resulting possession two flowing moves were created with almost every forward moving the ball at pace, and it was Mark Jordan followed by Evan Gallagher who both hit the Milford net to give our boys the half time lead, 3-05 to 0-08.
Our boys through Frank Cornyn struck for the first two points of the second half but Milford responded again with Oisin McCallig unlucky to see a fine save rebounding off the crossbar into a Milford forwards arms who finished to the net. Milford tacked on a couple more points to bring them right back into the contest but the fielding of Ethan McNulty and driving runs from Ross O'Keeney, Senan Quinn and Evan Gallagher were rewarded when Dermot Slevin pointed and Frank Cornyn struck for a goal. Milford however were far from finished and in a hectic final 8 minutes they first struck 1-01 before Dermot Slevin converted a free to push our boys two ahead, but Milford responded with two frees of their own to force extra time on a scoreline of 4-09 to 2-15.
The first period of extra time was dominated by Milford and but for some heroic defending forcing turnovers the game could have been decided in this period. Despite the dominance Milford had just two points to show at the end of the first 10 added minutes. Following the turn around our boys regrouped and showed great maturity and patience for the remainder of the contest and while Dermot Slevin was to add three points the effort from every Four Masters player to keep possession and to work the ball forward to create the chances illustrated the hunger and drive of this young team.
The drama was not yet finished, one point up entering into the last minute and it was Milford who stole in from the right wing only to see Oisin McCallig make a fine stop when a goal seemed certain, Milford however were able to come away with a score from the rebound to draw the sides level again. Yet again our boys pushed for the winner and the ball was worked forward and a free awarded far out on the right wing, the resulting free dropped agonizingly short, followed by the final whistle. A 4-12 to 2-18 draw and both sides will meet again in an eagerly awaited replay.