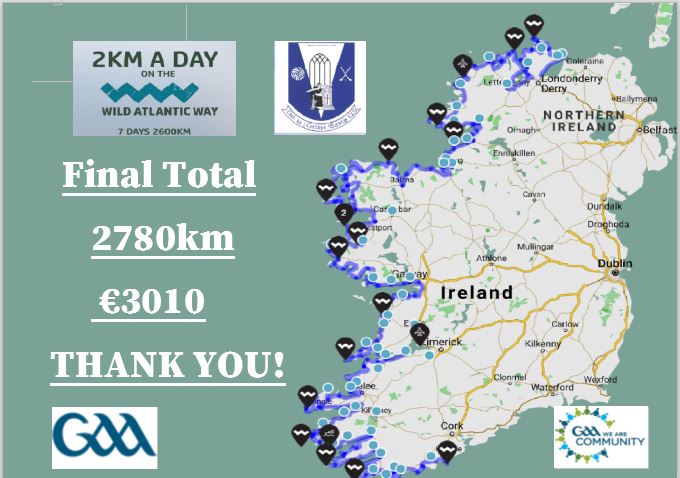 COVID 19 is having a massive impact on all aspects of life in our country and Four Masters G.A.A. Club feel it is right that we give back to our local community during these difficult times. With this in mind, we are running an initiative called "2 km a Day on the Wild Atlantic Way" in aid of ChefAid and our local Residential Care Centres. Please support this great cause and get active.
What it involves
Over the coming days we ask individuals to walk/run within the 2 km radius of their home. This can also be done within or around your home. Once you have finished your walk/run you can submit your distance here:
Fundraising
As the club depends on the community for support during normal times, this initiative gives the club the opportunity to support our community at this challenging time by fundraising for local causes. Any money that is raised will go to ChefAid Donegal Town and the Residential Care Centres in the local community. Our aim is walk/run 2600km of the Wild Atlantic Way collectively and raise €2600.
You can donate by clicking here:
Virtual Wild Atlantic Way Tour
As well as encouraging daily exercise, we have set up a virtual tour of some beautiful locations along the Wild Atlantic Way to make the challenge even more fun. When you finish your walk/run, why not take in one of these beautiful views and imagine you are there!
Get our Virtual Wild Atlantic Way Tour pdf here: