Club Registration
Members are encouraged to register and pay their 2020 membership for themselves and / or their children using the Clubforce app on their mobile phone or via the Clubforce webpage on your PC or other mobile device https://clubforce.com/…/gaa-four-masters-g-a-a-club-donegal/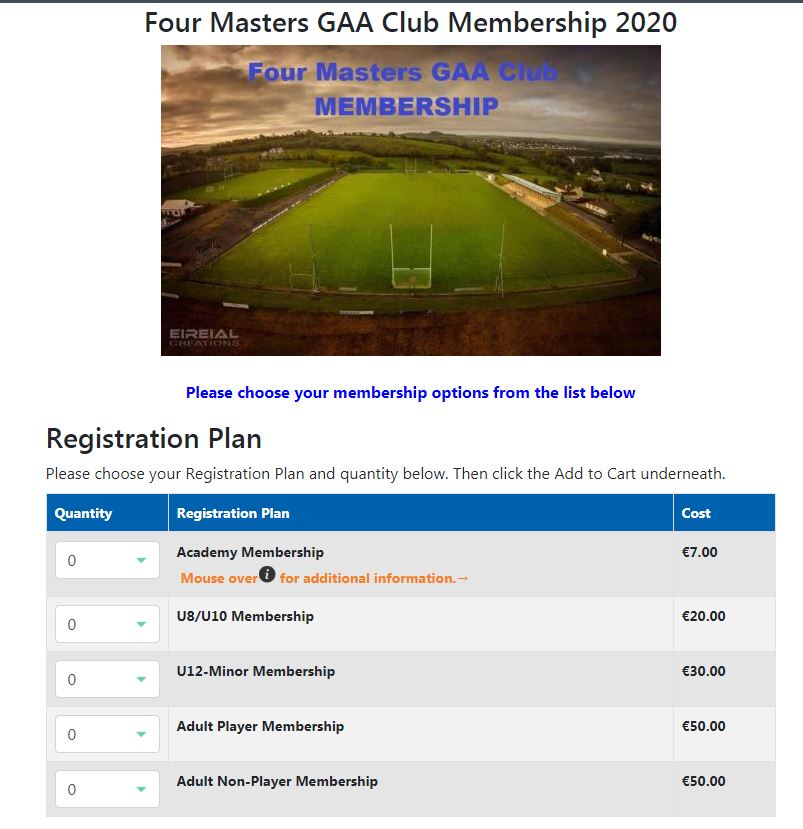 Ireland Lights Up
Please note our Ireland Lights Up walk this week is on Wednesday night 19/02/20 from 7pm to 8pm.
Scór
Buíochas do na daoine a ghlac páirt í Scór oíche Dé Sathairn í Drimarone. Joanne McGlynn in the solo singing competition and Peader, Cathal, Joanne and Gerry in the quiz.
County U20 Football
Good luck to our club players Richard O'Rourke and Jamie Crawford who are part of the Donegal U20 squad that play Monaghan this Saturday in Ballybofey. 1pm throw in.
Bord na nÓg training schedule
U6 – Bosco Centre – Mondays 5.45 to 6.45 pm
U7 – Bosco Centre – Wednesdays 6.00 to 7.00 pm
U8 – AVS – Tuesdays 5.30 to 6.30 (cancelled on Tuesday 18/02/20)
U9/10 Football – Astro – Tuesdays 6.00 to 7.00 pm
U11 Football – Astro – Tuesdays 5.00 to 6.00 pm
U12 Football – Astro – Wednesdays 6.00 to 7.00 pm
U14 Div 2 – Mondays 5.30 to 7.00 pm
U14 Div 1 Mondays 7.00 to 8.30 pm
Minors Football – Tir Conail pk – Wednesdays and Fridays –
4.15 to 6.45 pm
U8/10/12/14 Hurling – Astro – Tuesdays 7.00 to 8.00 pm
Club Lotto
There was no winner of the Lotto Jackpot of €1,200 in Week 32 of the 2019/2020 season draw held in the Abbey Hotel on Monday February 17th.
The €50 winners in the Lucky Dip were Jose & Lara Britton c/o Brittons Pharmacy and Ann Timoney, The Heeneys. Well done to the Senior and Reserve men's teams – Caolan Loughney, Oisin Reid, Killian Faulkner, Neil Ward, Brian Fagen and Aiden McHugh for selling Lotto entries on Saturday night.
The numbers drawn were 2, 9, 12 and 18. New members are still welcome so why not play online now and be in with a chance of winning €1,300 on Monday 24/02/20 at https://www.myclubfinances.com/fourmasterslotto
Ladies Board
The Ladies Board are delighted to be entering an U14 girls team into the Feile this year. We wish the players and coaches the best of luck in the competition.
By fourmasterspro
Mon 17th Feb