Four Masters GAA – Club Notes
14th Nov 2022
Fixtures/Results
U13 Boys
Four Masters 4-10
McCumhaills 0-9
County Champions!! Congratulations to our U13 boys and management who put on a brilliant display of football at the Center of Excellence in Convoy last Tuesday. They boys went in 2 pts up at half-time, and came out fighting in the second half. In atrocious conditions, the boys gave a great team performance, both in attack and in defence to keep McCumhaills out.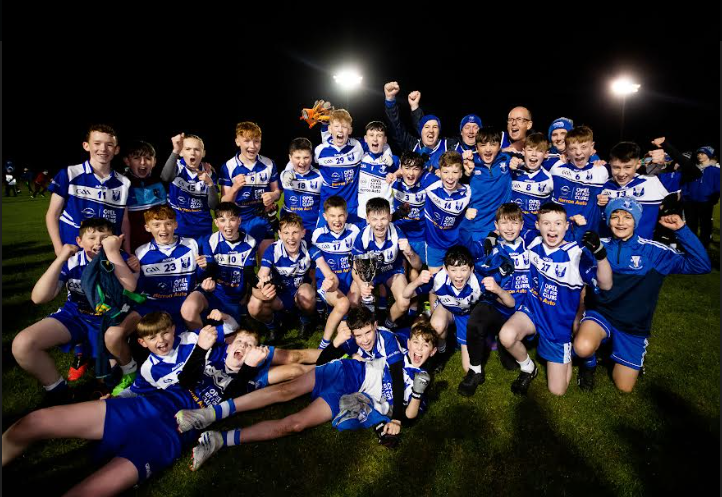 U17 Minor Team – Ulster Competition
Our U17 team play the Fermanagh Champions in the St Paul's Ulster tournament on Saturday 10th December at 5pm in Colaiste Feirste.
Four Masters Club House Development Draw
**Week 7 Draw Winners**
€1000 (363) Jenny & Nigel Carr (Donegal Town)
€500 (965) Sean McKiernan (Donegal Town)
€300 (101) Anne Martin (Barnesmore)
€200 (182) Roisín Kennedy (Donegal Town)
€200 (822) Daniel Lynch (Letterkenny))
€200 (358) Aoife McGoary (Drumeny)
Congratulations Everyone
Weekly Lotto Results
No winner of this weeks Lotto draw for €3500 Lotto Jackpot, Drawn numbers were 4, 10, 13 & 16 – the winners of the €50 Doms Pier1 Vouchers – Liam McCauley, Castle Street & Colm O Rourke, St Ernans – Next Jackpot €3600
Bluestack Foundation Training
Our training sessions for our friends from the Bluestack Special Needs Foundation has re-commenced every Saturday on the Astro at 2.30 pm. All help welcome.
Four Masters Annual General Meeting
The Four Masters GAA Club will hold its AGM on Saturday the 19
th
 of November at 7:30pm, in the Parish Center, Donegal Town.
All welcome
By fourmasterspro
Tue 15th Nov