Four Masters GAA – Club Notes
01st February 2022
Sad passing of Donna Boyle (nee Dunnion)
A dark cloud swept over Tír Chonaill Park on Tuesday 15th February when the Four Masters club learned of the passing of their much-beloved legendary player and stalwart, Donna Boyle (nee Dunnion). Many words have been used to describe Donna over the last few days, the most common being a lady, an inspiration and someone who was looked up to by many a ladies' players that donned the blue and white jersey during the period 1992 – 2011.  Donna played senior ladies' football in the club from the tender age of 11. During those early years, she played primarily under the stewardship of her much beloved Dad, Danny Dunnion, and Hugh Devenney. Many a funny story could be told from those early day's playing ladies GAA within the club. Players from that era will remember the craic that was had in the MBA field, out in Townawilly and the Killymard soccer field.  The one thing for sure is that Donna has left a lasting legacy in the Four Master's GAA club history, playing in underage ladies' competitions within the club and county, winning junior club county finals, competing in Junior and Intermediate Ulster Club Finals, competing in many senior county finals against St. Eunan's until finally securing a Senior County Championship victory with many of her friends in 2006 & 2007. 2003 also marked a proud year for the club when we welcomed Donna and other Four Master teammates and the Donegal Junior All-Ireland winning team back to the Diamond. Donna achieved all that could be achieved in her football career.  She was a composed player, so cool, calm, and collected under pressure. She had a tremendous reading of the game, a tactile man marker, and the best blocker of the ball playing at that time. She lived for Sunday morning games in Tír Chonaill Park (she might not always have lived for the training though) – but it was her second home at that time. There was no doubt that the blue and white jersey meant everything to Donna. This was also evident when she was supporting her two brothers Barry and Dónal playing football for the men's teams, and the boys in turn managed her in various teams in later years. It came as no surprise to us that she bravely battled a very long illness to the bitter end. Anyone who knew what Donna was about, would know this was her nature – she was tough, resilient, and she never let anything, or any person get the better of her. Unfortunately, this was one courageous battle that Donna lost. Despite her suffering, Donna was still a frequent visitor to Tír Chonaill Park (as Martin Gillespie would attest to!) and continued to support Barry this year playing senior football for the club. Her devoted husband Brendan, would often be seen by her side at games, maybe not supporting quite as loudly as her, but nevertheless truly showing his loyalty to Donna. We are so sorry that Brendan, Eoghan, Aoibhinn, Danny, Marian, Barry and Dónal have to bear this very sad burden and all we as a club and community can do is help them in any way possible in the years ahead. The Four Masters club has lost a once in a generation Gael. We are privileged that Donna will always be remembered in our club's  history  but saddened that she has been taken away from us far too soon.  One of Donna's last wishes in life is when her family see the colour blue, to think of her. This wish stemmed from her passion for her club's colours – the Blue and White of CLG Na gCeithre Maistir. Ar dheis Dé go raibh a hanam dílis.
Author:            Nicola Dunnion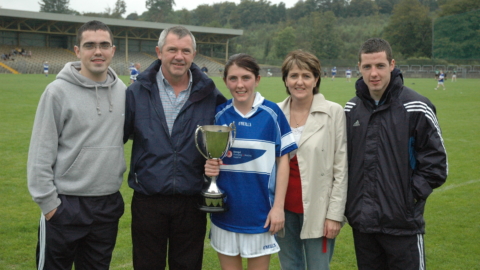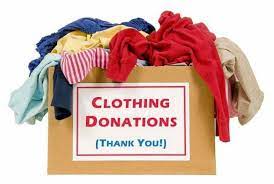 Clothing Donations
Please support our clothes collection to raise funds for the club. Bags of clothes can be left in the new Tea Hut beside the main stand by the Sunday the 6th March. We will accept any reusable clothes, shoes, bags, belts. (No Bedding, Curtains or Brick-a-Brack)
*GAA Season Ticket!*
Buy a GAA Season ticket and support your local Club!
Purchasing a "Club Plus" GAA Season Ticket will cover your 2022 membership to The Four Masters and on top of that your Club will benefit by gaining a reduction in its levy's to the county board. Your Ticket will get you into all county Allianz league games, first round of the championship but also gives you free admission to all club games including club championship.
To buy yours, go to https://am.ticketmaster.com/gaaseasontickets/donegalfb22
*Super Bowl Fundraiser*
Winners of our Super Bowl Fundraiser:
*1st Quarter*
Sharon Meehan and Paul Martin. €250 for each.
*Half Time box winners*
John Meehan and Dermot McHugh. Each wins €500.
*3rd Quarter Winners*
Conor Reid and Ciaran Cassidy. Both get €250 each.
*Super Bowl Box – Full Time Winners*
John Meehan and Dermot McHugh. Both win €1000 for FT win and €500 for HT win.
Thanks again to everyone that bought and sold a box.
*Club Membership*
Club Membership is now overdue!!
Club membership for 2022 can now be paid online at www.foireann.ie Deadline for membership is 15th February.
All players/coaches/manager/helpers must have a paid membership before a team can begin training. If any underage parents have queries on registration, please contact Ladies Board Registrars Mary Crawford (086 8207942) or Rachel Crawford (086 6082884) if related to girls football, and Bord na nÓg Registrar Michelle Mc Shane (086 0436806) if related to underage boys football, camogie or hurling. Thank you
*Club Lotto*
Club Lotto weekly draw results from Monday 14th February:
No winner of this weeks Lotto draw for €400 Lotto Jackpot
Drawn numbers were 7, 15, 17 & 24
Winners of the €50 Doms Pier1 Vouchers:
Alan Carbin, Bridge Street
Seamus Og Campbell, Gortloskey
Next Jackpot €500
New members are always welcome, so play online before 4.00pm on Monday and be in with a chance of winning the €500 jackpot.
https://clubforce.com/…/gaa-four-masters-g-a-a-club…/
*Ireland Lights Up!*
We continue to open up our facilities on a Wednesday evening at 7pm for anyone who wants to get out for a walk, in a safe and well-lit place, meet a few friendly faces and walk at a pace that suits you. Suitable for Adults and children. Walk as little or as much as you want.
By fourmasterspro
Mon 14th Feb