Club Notes
20th November 2023
Club AGM
Parish Centre Donegal Town , Sat 2nd Dec @ 7:30pm
Come along and support the executive committee as we wrap up the year, 2023, and plan for 2024. Let us know your thoughts on the last 12 months and share your ideas for the coming year. We are always looking for more people to get involved, as little or as much as you can commit to. It would be great to see a good turnout on Sat evening to show your support for the committee for all their hard work!
Lotto
We have a WINNER of the Four Masters Lotto Jackpot – Lucky Numbers Drawn 3, 7, 17 & 23 and the winner is Nuala Markham, C/o Gerry Timoney, Doonan, well done Nuala, a long time supporter of the Four Masters Lotto – Jackpot next week €300
Dinner Dance
Tickets will be on sale soon for our annual awards night and dinner dance. After last years success, we are returning to Harvey's Point on Sat 20th Jan, for a 4 course dinner followed by live music from Keltic Kaos.  This was a great event last year, so make sure you get your ticket on time!!
Ladies Awards Night
All are welcome to join us in celebrating the Four Masters Ladies End of Year Awards Night 2023 on Sunday 10th December in the St John Bosco Centre @ 6pm. Where we will be joined by a Legend of LGFA, Mayo, and Aussie Rules Star Cora Staunton. Cora has won 4 All Ireland titles and 11 All Star Awards. She was also the first Irish woman to make the move Down Under playing with the Greater Western Sydney Giants, where she became the clubs all-time leading goal scorer. We look forward to welcoming her to Donegal Town
County Trials
Good luck to all our underage boys and girls who are currently attending County Trials for various age groups.
Bord na nOg Awards (Junior)
The Junior Bord na nOg awards evening has been booked for The Parish Centre on Sunday 3rd Dec from 2-4pm. The Junior Awards are for all age groups up to & including U11. Senior Awards (u13-u17) will be held at a later date.
Look forward to seeing you all there!
Development Draw
Week 8 Draw Winners
€1000 – Elizabeth Mackle
€400 – Patrick & Sally McGonagle, Donegal Town
€250 – Priority Construction, Dublin
€100 – Laurence Doherty, Mountcharles
Ulster Minor Game
Our Minor (U17) boys have been training hard since they won the County Final in October. They will travel to Belfast on Sat 9th Dec to face O'Donovan Rossa, Magherafelt, in the Quarter Final throw-in 5pm
U21 Championship
Four Masters 2-07
Aodh Ruadh 1-04
Our U21 had a good victory away to Aodh Ruadh, Ballyshannon last week, the team was boosted with the return of some players, and the win means that they boys will now progress to knockout stages. Next game to be confirmed.
Four Masters scorers: Kevin Muldoon 1-2; Seanan Carr 1-1; Joe Leape, Evan Gallagher, David Monaghan, Conor Meehan (f) 0-1 each.
Four Masters: Ethan McNulty; Terence McGovern, Ross O'Keeney, David Monaghan; Evan Gallagher, Callum McCrea, Caolan Sweeney; Richard O'Rourke, Conor Reid; Ultan O'Grady, Joe Leape, Kevin Muldoon; Conor Meehan, Seanan Carr, Alex McCalmont.
Subs: Leo McGovern for Sweeney (47); Shay Travers for McCalmont (51); Theo Colhoun for E Gallagher (60); Callum Dunnion for C Meehan (60+2)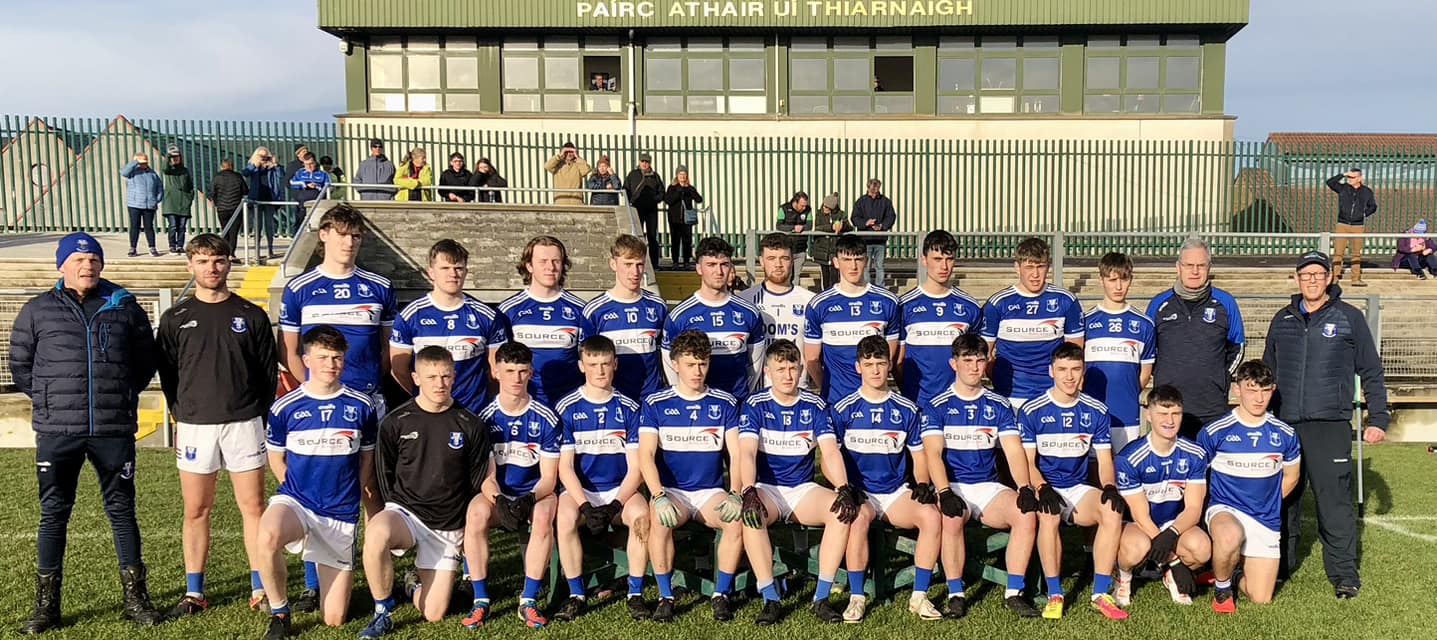 U13 Girls
N Columba 2-6
Four Masters 2-10
Well done to our U13 girls who made the long trip to Glencolumbkille on Sat morning for their U13 county quarter final v Naomh Columba. The girls had a slow start to the match and conceded two soft early goals, but battled hard and got right back into the game, with 6 points before the short whistle.
In the second half, despite playing into a very strong wind blowing in from the sea, our girls got two early points to settle them down. Carrying the ball up the field, time after time and defending like tigers, they struck for 2 well deserved goals mid way through the half. The defence continued to stand up to the Naomh Columba long balls being delivered with the wind, but when that didn't work for the home team, the young Four Masters ladies started to turn them over, when the home side started to carry the ball forward. An unbelievable effort from all our girls that togged out, despite the terrible conditions for playing football on the day. The Four Masters girls have now qualified for a county semi final v Cloughaneely, to be played next week. Time and venue to be confirmed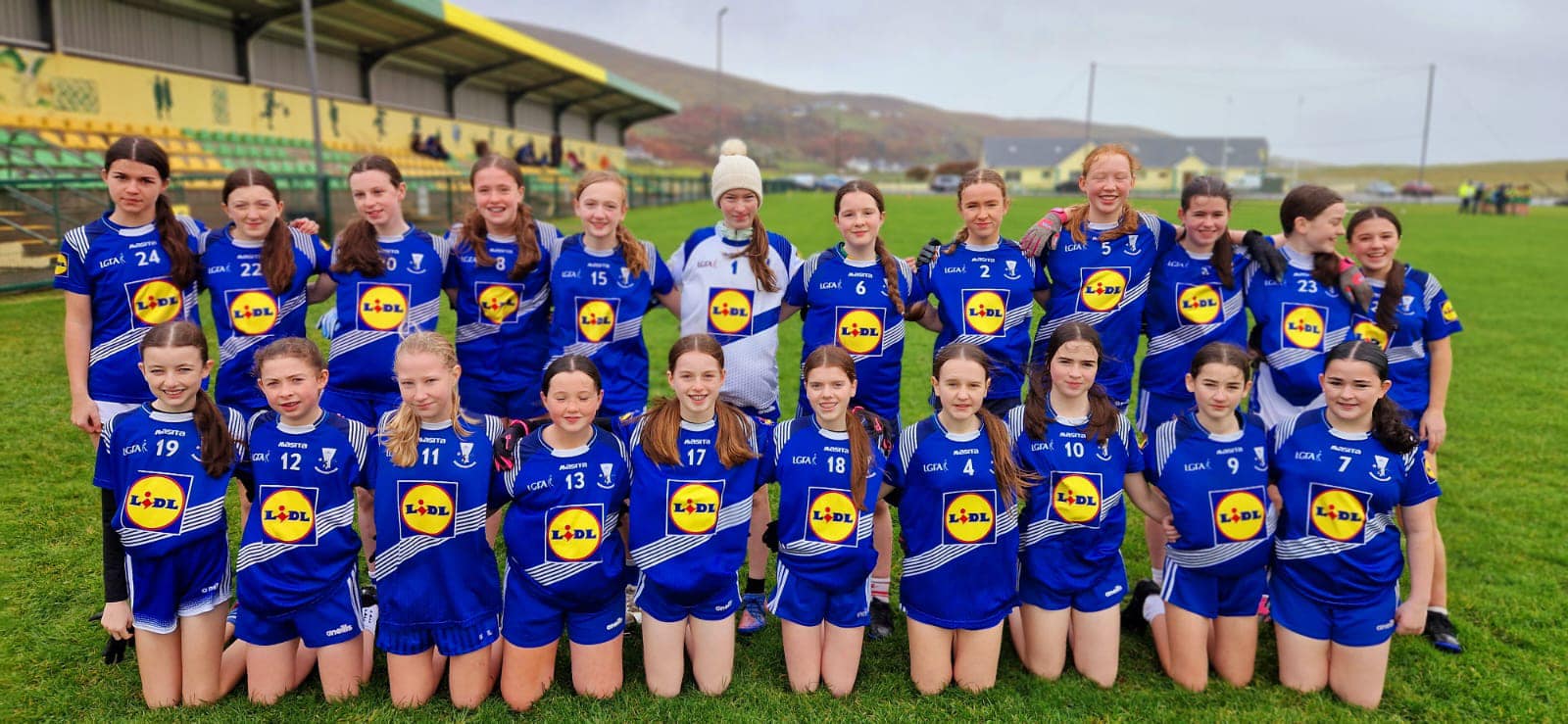 By fourmasterspro
Mon 20th Nov