Four Masters 0-11 Killybegs 0-15
Killybegs made the most of their chances to take the points away from Tir Conaill Park today.
Masters began the livelier against a significant breeze and Kevin McBrearty slotted a neat point after two minutes. Killybegs replied with a point from Ryan Cunningham followed by another shot which was initially chalked up but then ruled wide. A wide from a free by Cunningham was followed by a point from an acute angle from the tricky Brendan McGuire. A converted free from Cunningham was followed by point from play by Paul Cunningham before Masters had their second point of the game though a free from David Quinn. Masters hesitancy in front of goals was proving their downfall as two goal chances went a begging – the first through a good block by Kevin Martin on Sean O'Kennedy and the second a floated pass across the goal by McBrearty that was cut out by Ciaran Conaghan before it could reach Thomas McGowan. Killybegs then tacked on two more points from a free by Conor Cunningham and one from play by Michael Gallagher.
On 19 minutes Oisin Reid finished off a fine flowing move for Masters with a point but Gallagher had two more frees to stretch the lead out to five points. Masters had three wides before a point from McGuire and a free from Ryan Cunningham stretched the lead further. A free from Conor McDaid was all Masters could muster in reply before half-time.
HT: Four Masters 0-4 Killybegs 0-10
John Boyle, presumably through injury, was replaced by Emmett Doogan at half-time with Aaron McCrea slotting back into the centre of defence.
Masters, with the wind behind them had the most of the play during the opening minutes but failed to capitalise on the scoreboard. It took until the 7th minute before the first score arrived when Conor Cunningham slotted a free after a Killybegs breakaway. McDaid replied with a free of his own before McCrea retired injured to be replaced by Jamie Crawford. Quinn reduced the arrears with a long-range point but Conor Cunningham had another free in reply. Daniel Breslin had dropped into a sweeper role for Killybegs and Four Masters were finding it hard to get the supply into the full forward line.
Kevin Breslin made his way up from full-back to get the next point but Gallagher quickly replied. Barry Dunnion, who was having a big influence in the second half, had a good point but again Gallagher replied. Masters were finding it hard to reduce the arrears and Ryan Cunningham pointed to push the lead out to seven. Masters had the final three points through Doogan, substitute Ronan McHugh and O'Kennedy. They also had a late goal chance from Cathal Canavan which flashed across the face of the goals but there was nobody was on hand to provide the final touch.
The final piece of play saw Ryan Cunningham receive a straight red card for a late, high trip on the speeding Doogan.
FOUR MASTERS: Eamon Jordan – Brian Fegan, Kevin Breslin (0-1), Dylan Kennedy – Leo McHugh, John Boyle, Caolan Loughney – Kevin McBrearty (0-1), Oisin Reid (0-1) – Aaron McCrea, Sean O'Kennedy (0-1), David Quinn (0-2, 1f) – Conor McDaid (0-2, 2f), Thomas McGowan, Barry Dunnion (0-1). Subs: Emmett Doogan (0-1) for John Boyle (ht), Jamie Crawford for Aaron McCrea (38), Ronan McHugh (0-1) for Thomas McGowan 43, Cathal Canavan for Brian Fegan 50.
KILLYBEGS: Kevin Martin – Christopher Cunningham, Ciaran Conaghan, Ryan Carr – David McGuinness, Jack McSharry, Jon Ban Gallagher – Christopher Murrin, Michael Statham – Michael Gallagher (0-5, 2f), Daniel Breslin, Conor Cunningham (0-3, 3f) – Brendan McGuire (0-2), Paul Cunningham (0-1), Ryan Cunningham (0-4, 2f). Subs: Seamus Og Byrne for Michael Statham 39, Shaun Gorrell for Paul Cunningham 45.
Four Masters Reserves 1-5 Killybegs Reserves 0-14
Four Masters Reserves: Pauric Harvey – Aidan McHugh, Enda Bonner, Brian P. Gallagher – Eoghan Corley, Danny McGarrigle, Fergal O'Callaghan – Jason Duignan (1-1), Stephen Graham – Eoghan Gorrell (0-1), Ray Balogun (0-1), Killian Faulkner (0-1) – Eoin Slevin, Cathal Feeney, Joe Sheerin (0-1). Subs: Charlie Gallagher for Stephen Graham b/c (34), David Keaney for Eoin Slevin (57), Daniel Martin for Joe Sheerin (57).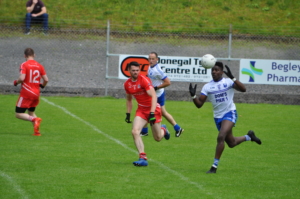 By fourmasterspro
Wed 31st Jul