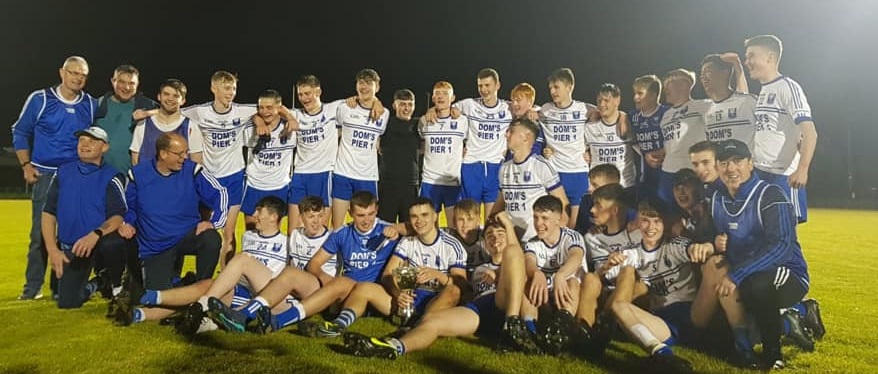 Our minor boys team lifted the Go-Power County Division 2 minor title holding off a spirited Cloughaneely side in Convoy on Wednesday night 18 September 2019.   The lads from Falcarragh were the first to score from a Mulhearn free but our boys responded well with Carl McCarry working the ball to Joe Leape who was fouled for a free which was converted by Alex McCalmont.  Next it was the turn of Mark Jordan to point putting our boys one up before Sean Curran responded for Cloughaneely.
In a tight affair our lads had pushed three ahead 0-05 to 0-02 by the eighteenth minute following frees from Shay Travers and while the Falacarragh lads through Sean Curran replied our boys were holding the lead responding each time Cloughaneely lifted their game.  We were unlucky not to extend our lead further, before the half, when Alex McCalmont had a goal disallowed for a square ball, nevertheless following a Cloughaneely free from Curran right before the whistle our boys led by 0-06 to 0-04 at halftime.
The second half started brightly with Alex McCalmont pointing in the opening minute, and Cloughaneely again responding.  Next it was the goalkeepers on both sides who shone, with  Cloughaneely keeper Oran Craig saving smartly from Killian Faulkner before Oisin Bryson in the Four Masters goals produced a fine stop to deny Mulhearn.  Cloughaneely through points from Patrick Flaherty and Cian Doogan leveled the game at 0-07 apiece on thirty-eight minutes but that was a close as they got.
Our boys lifted their game and pushed for home and Shay Travers scored the next three points; Cloughaneely responded with two of their own before Shay added his seventh of the night to leave us 0-11 to 0-09 ahead heading into the final quarter of the contest.  From there to the end our lads were able to kick three further scores – points from Alex McCalmont, Richard O'Rourke and Joe Leape – and were unlucky not to add a goal when a fine Alex McCalmont effort was brilliantly saved by the Cloughaneely keeper.   While Cloughaneely could only add a point of their own leaving the final score of 0-14 to 0-10 in favour of our boys.
FOUR MASTERS: Oisin Bryson, Mark Jordan (0-01), Diarmuid O'Donnell, Brian Gallagher, Ultan O'Grady, Darragh Geary, James McHugh, Senan Quinn, Richard O'Rourke (0-01), Eoin Gorrell, Joe Leape (0-01), Alex McCalmont (0-04, 1f), Killian Faulkner, Carl McCarry, Shay Travers (0-07, 4f); Subs: Christopher Gallagher, Kyle O'Neill, Matthew O'Callaghan, David Keaney, Conor McAllister, Kevin Canny, Andrew Monaghan, Evan Gallagher, Ross O'Keeney, Conor Reid, Ethan Potter.
CLOUGHANEELY: Oran Craig, Patrick Flaherty, Cormac Mac Giolla Comhaill, Eanna McClafferty, Sean McFadden, Ethan Friel, Darragh Ferry, Conor Coyle, Sean Curran (0-03, 1f), Cian Doogan (0-03), Ciaran Mulhearn (0-01, 1f), Keenan Gallagher, Cian McElhinney, Sean Geaney, Blake McGarvey (0-02); Subs: Patrick Flaherty (0-01) for K.Gallagher (ht), Remy O'Morain for E.McClafferty (44mins).
REFEREE: Pat Barrett (Milford).
By fourmasterspro
Fri 20th Sep