Local Engineering Company 'Source Civil Limited' to sponsor Four Masters senior footballers
October 2022
The Four Masters Committee are proud to welcome our new Club Sponsor, a local firm –
Source Civil Ltd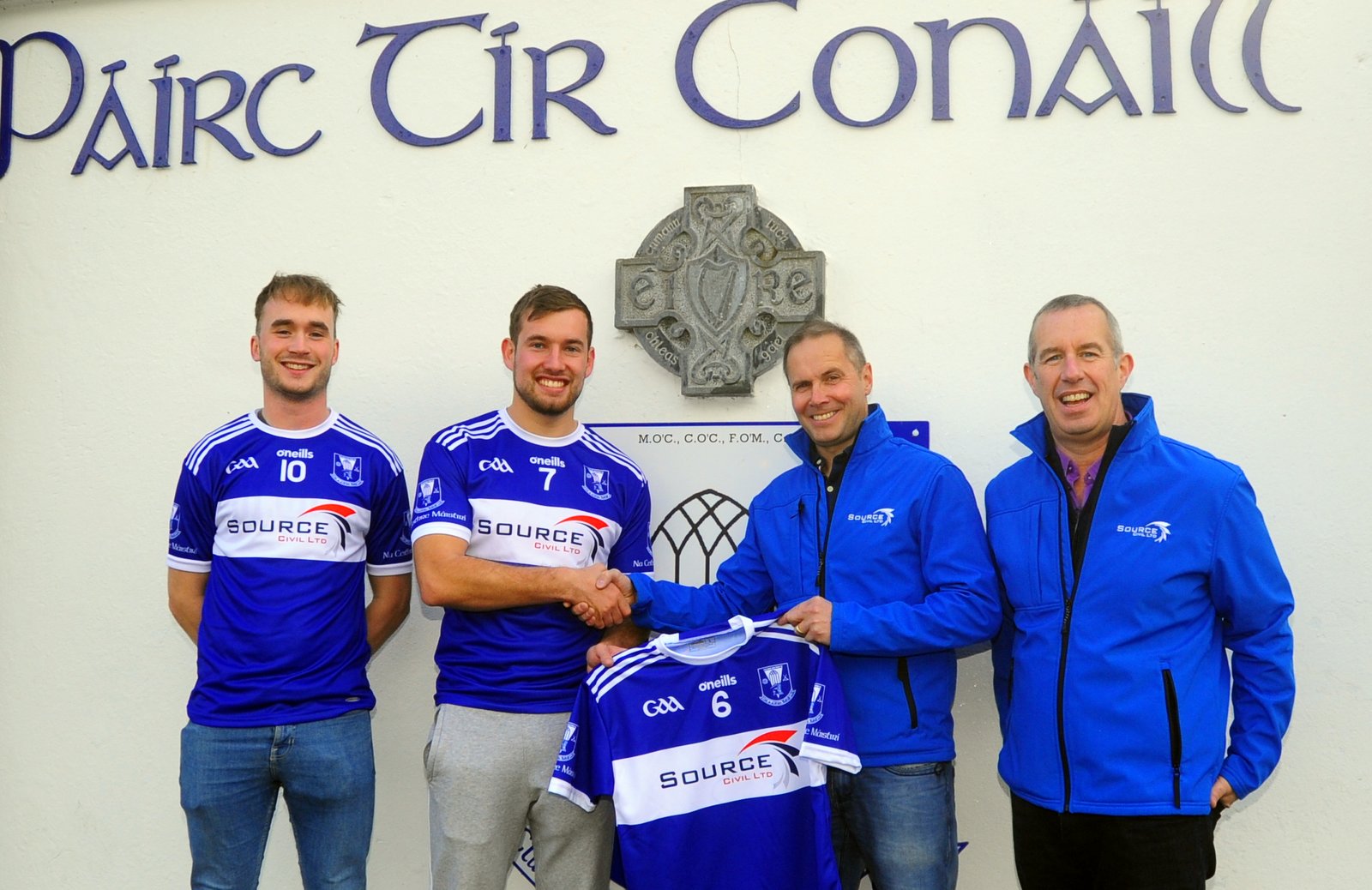 Enda Healy and Bernard O'Donnell (Source Civil Ltd) Presenting jersey to Senior Players Caolan Loughney and Dylan Kennedy
Four Masters GAA Club is delighted to announce that highly regarded local engineering company Source Civil Limited is to become the new sponsor of the clubs Senior Men's football team.  Founded in 2006 by Enda Healy and Dearbhail Mulhern, Source Civil is a global leader in construction and engineering innovation.  Headquartered in Donegal Town, Source Civil has a reputation for professionalism, integrity and quality.  They deliver multi-discipline and highly specialised engineering contracts across Ireland, the UK and Europe.   
"Like the Four Masters GAA club our success is built on dedication, commitment, teamwork and courage," commented Source Civil Managing Director Enda Healy.  "We are delighted to be in a position to support our local GAA club and in doing so we acknowledge the phenomenal work, time and effort that all the players and club volunteers give every week to promote sport in our community.  We are passionate about what we do and we always strive for excellence and we see these same qualities in the Four Master GAA club," stated Healy.
The new five year sponsorship agreement will see the Four Masters men's senior football team proudly wear the Source Civil logo on their new jerseys for the coming Donegal GAA senior football championship "Source Civil is a very reputable local company that is rooted in the community.  Their support is a great endorsement for the club and the huge efforts everyone is making to promote Gaelic Games in the town and region.  Everyone associated with the club is looking forward to working with Source Civil over the next five years and I want to thank them sincerely for their commitment and support for the club," commented Four Masters Cathaoirleach Pauric Harvey. 
Source Civil has a strong history of supporting local sporting clubs across the northwest region.  "We are looking forward to an exciting Donegal GAA senior football championship season and we want to wish the Four Masters senior team and management all the best in the coming weeks and months," commented Enda Healy, Managing Director of Source Civil.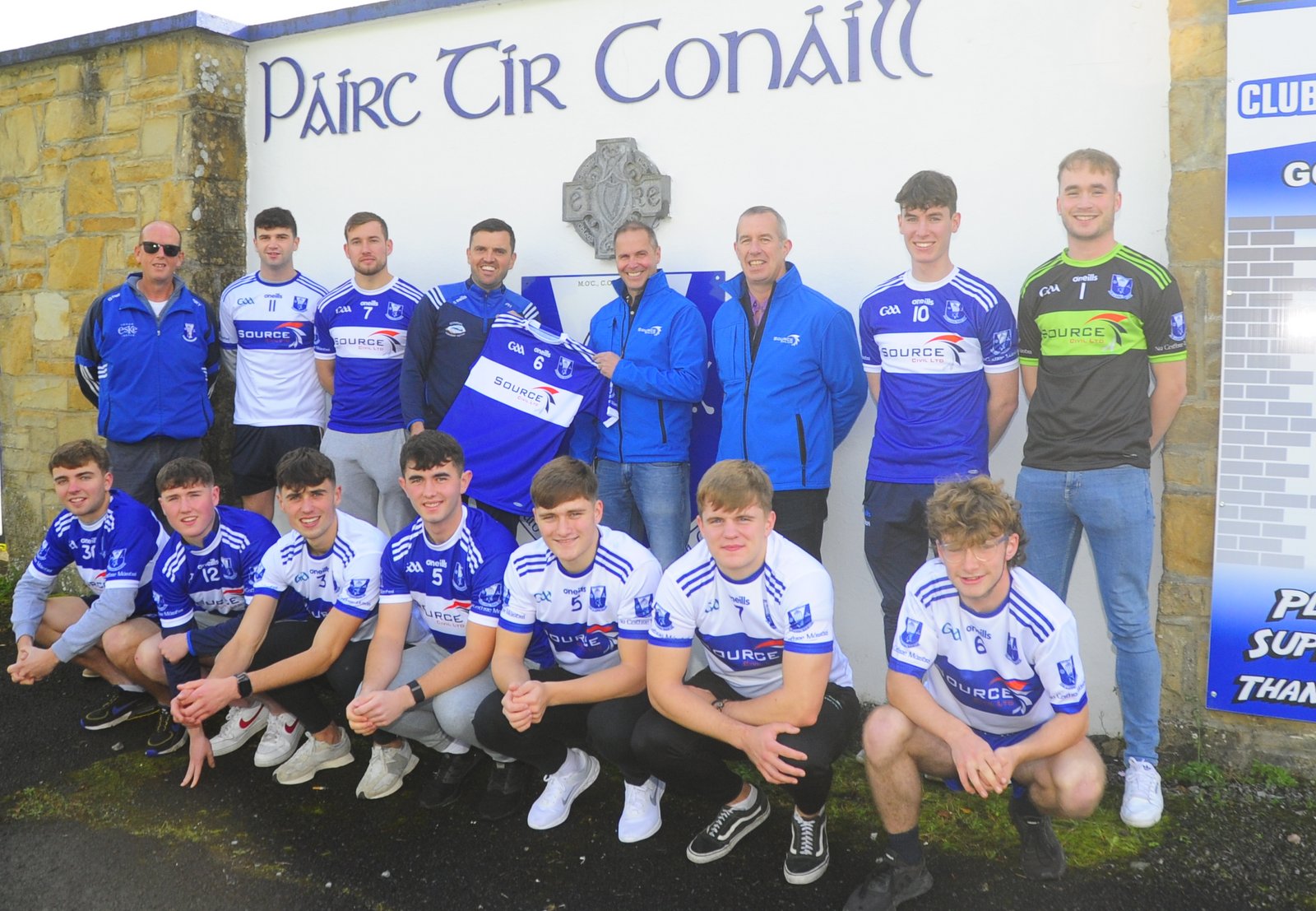 Senior Mens' Manager, Kevin Sinclair and players with Enda Healy and Bernard O'Donnell and Four Masters Chairperson, Pauric Harvey
About Source Civil Ltd
Source Civil Ltd was founded in Donegal Town in 2006. Since then company has grown steadily to become one of the leading medium sized contractors in the North West.
Today we operate from offices in Donegal Town and Galway and employ over 170 full time staff across many key trades. This enables us to directly deliver complex, multi-discipline projects and where highly specialised works are required we have built up trusted relationships with supply chain partners throughout the region. We also operate a large, modern, fully equipped plant fleet which covers all needs and further strengthens our capability to fulfil the most demanding of projects.
Source Civil Ltd is a civil engineering contractor with a reputation for professionalism, integrity, innovation and quality. With over 14 years experience across many sectors of the construction industry our success is built on dedication to excellence and service.
We put our Clients interests first, providing a level of service that enables them to concentrate on their business in the knowledge that their project is in safe hands. We pride ourselves on our ability to forge strong partnerships and long-lasting relationships across Clients (both private and public sector), professionals and supply chain.
We are owner-driven and passionate about what we do. We have a hands-on collaborative approach and genuine commitment to delivering value and excellence in everything we do.
Construction is all about people and performance and our people are skilled and highly trained with the experience and ability to deliver the most complex and challenging projects within demanding project deadlines and meticulous quality standards.
The approach we take is that we are not simply a contractor; we see ourselves as an integrated service provider and our objective is to provide each Client with the very best construction experience they have encountered to date in their business.
Our delivery model focuses on core services which are Building and Civil Engineering we have proven experience in successful delivery across all leading sectors including, Street works, Community, Industrial, Data Centres and Utilities.
Much of our work is unseen, unnoticed but essential to wider society and the communities in which we operate. Once a project is complete, we take pride in restoring the countryside to its former glory.
Ingenuity, dedication and attention to detail are what fuels our operations and it is this that has driven us to become the contracting partner of choice for our increasing list of Clients. Ongoing investment in staff, technology, plant and machinery ensures we continue to offer the most comprehensive civil engineering and construction solutions available.
By fourmasterspro
Mon 3rd Oct