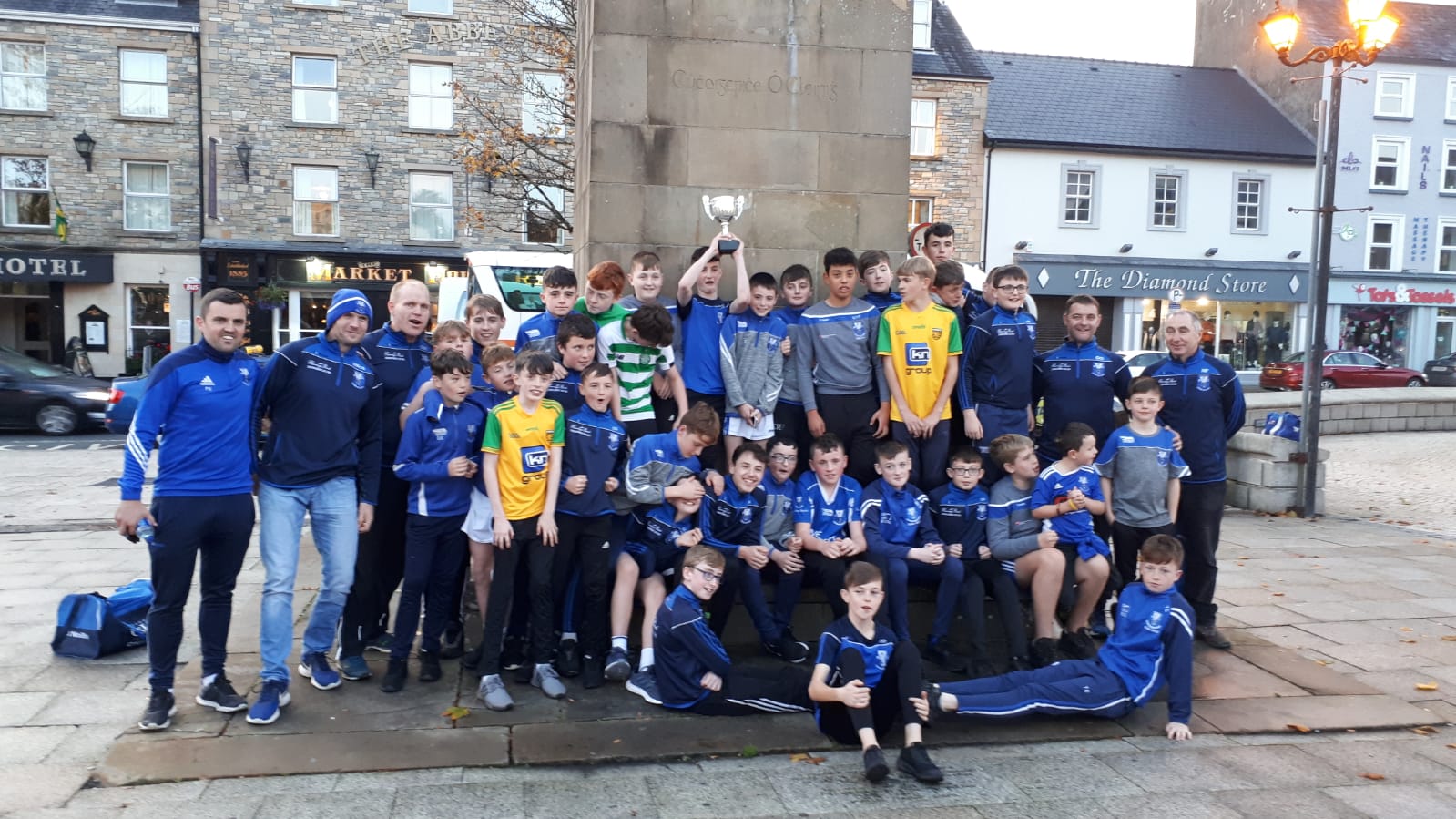 Our U13 boys footballers continued the clubs underage success this year lifting the U13 County title with a convincing 2-17 to 0-05 victory over Cloughaneely on Saturday 19 October 2019.
A good start is half the battle and our boys dominated from the start in O'Donnell Park, Letterkenny.  After settling well it was Kevin Muldoon who struck the Cloughaneely net in the second minute for the opening score.   This was followed by fine scores from Oisin Doherty, Josh Cullen, Conor McCahill (2), Lee McNamee and David Lagan all raising white flags for our boys.
Of course such dominance needs all to be playing well across the pitch.  Terence McGovern, Dylan McGroary, Theo Colhoun and Tiernan McBride were working hard to dispossess Cloghaneely in defence, in front of the vigilant Seoirse Flaherty in goals, and with Calum McCrea, Kevin Muldoon and Turlogh Carr in the middle third turning this possession into attacks that were yielding the returns.
Cloughaneely had their chances and although they had a few wides it was Sean Sharkey who got Cloughaneely their opening score with a well taken point and Donnachadh Ó Baoighill who followed up with a second quickly thereafter.  As if stung by the Cloughaneely response it was a Josh Cullen three pointer and two Oisin Doherty points that rested the contest firmly back in our boys favour at the end of the first half to leave our boys 2-08 to 0-02 ahead at the interval.
Our boys continued the second half in the same vein as the first with Josh Cullen, Oisin Doherty and Conor McCahill adding further scores to extend the lead before Cloughaneely responded.  As with the first half the strong tackling and high workrate from our boys was notable throughout the team with Niall Keeney, Sean Meehan, Cian Gallagher, Cillian Sweeney and Daithi Pearson all contributing to the fine team performance and Calum Dunnion scoring our last point to see the u13 Division One title return to Donegal Town, much to the joy of the travelling support and the hard working management team who have coached this group since U7.
FOUR MASTERS: Seoirse Flaherty, Terence McGovern, Dylan McGroary, Theo Colhoun, Tiernan McBride, Lee McNamee (0-01), Kevin Muldoon (1-00), Calum McCrea (0-01), David Lagan (0-01), Conor McCahill (0-04,1f), Turlough Carr, Oisin Doherty (0-04), Josh Cullen (1-05,1f), Niall Keeney, Calum Dunnion (0-01), Sean Meehan, Cian Gallagher, Cillian Sweeney, Daithi Pearson.
CLOUGHANEELY: Carragher Friel, Jamie McGeever, Anthony Doohan, Ciaran O'Donnell, Seamus Ó Dugáin, Tiernan McGinty, Lorcan McGee (0-03,1f), Sean Sharkey (0-01) Donnachadh Ó Baoighill (0-01), Jack Ó Gallachóir, Brendan Coyle, Patrick Doohan, Matthew Ryder, Caolan McNulty, Euan Urauhart, Stephen Curran, Darren O'Hanlon.
REFEREE: Eugene McHale (Bundoran)
[envira-gallery id="10497″]
By fourmasterspro
Sun 20th Oct