2023 SRB U17 Regional Final
Mon 15th May 2023
Next Monday evening in Tír Conaill Páirc TWO teams from the same club in the same grade will meet in the Southern Regional Board (SRB) minor league final – a unique occasion. The Four Masters club entered two teams in this year's SRB U17 league, and as there was only one division, and 14 teams, they were split into two groups of 7, culminating in The Four Masters Blues meeting The Four Masters Whites, after both teams, facing some stiff competition came through their groups undefeated.
The Blue Team is managed by Greg Doherty, Michael Feeney, Barry Monaghan and Oisin Reid, and The White Team is managed by Odie McBride, Hugh McNamee and Caolan Sweeney.  Both teams are expertly looked after by Club Physio Shane Cannon. Doherty said, "While both sets of players train together during the week, come match day they go their separate ways". Both these teams possess many players of a high skills repertoire so a free scoring game can be anticipated.
McBride said "its great when we have large numbers that all the boys are getting to play games, we have almost 40 boys registered at U17 level and it's fantastic that we are able to give them all as much playing time as possible."
The management are aware that this is only the regional final, and there will be more tough opponents to play when they meet teams from the other regions in the county. Doherty said "we played some great teams in the SRB, and the standard in the Southern Board is improving with the competition getting stronger each year, so we are aware that championship games against teams who have County players returning will be a battle.
Club chairperson Pauric Harvey said "The main thing for us as a club is to keep building for the future, our aim is to get these boys playing senior level for the club. Historically at senior level we have lost a lot of players through one thing or another, the average age of our current panel is 21 and we would hope that those players are still with us when our current underage player move up to senior and reserve level."
It is set to be a special occasion for the club, and for the players who are all friends and yet are enjoying the rivalry of playing against each other. This will be a great game for the neutral supporters, although they may have to pick sides before the games starts, they will all be celebrating at the final whistle. Everyone in the club is looking forward to the final, and will treat it like any other game, with both teams eager to be the champions on the day!
Come out and support ALL the players, and no matter what the final result, the winners are the boys who are all getting a chance to play for their club and develop their skills while making friendships and memories along the way.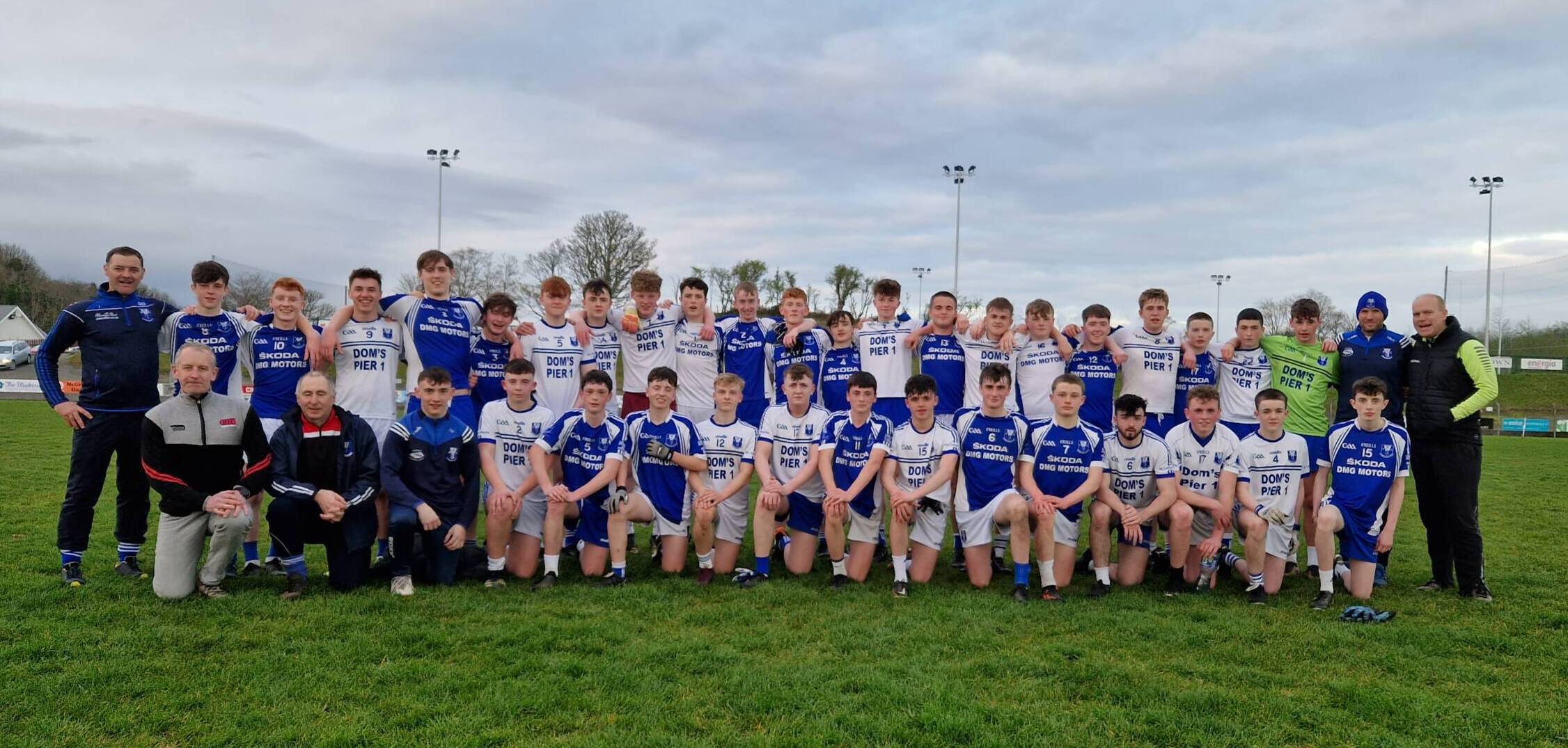 Blue Team Squad : Alan McHugh, Cormac Carr, Cian Gavigan, Sean Meehan, Callum Maskery, Cillian Sweeney , Joseph Jordan, Turlough Carr, Cian Gallagher, Darragh Griffin, Eoghan O'Neill, Niall Feeney, Eoin Reid, Oisin Og Gallagher, Patrick McGonagle, Oisin Doherty, Sean Slator
White Team Squad : Aidan Quinn, Colin Downey, Jon Farren, Calum Dunnion, Jack Glapa, John Flannery, Daniel McGinty, Theo Colhoun, Dylan McGrory, Jake Quinn, Lee McNamee, Kevin Muldoon, Seoirse Flaherty, Daithi Pearson, Fintan Quinn, Zach Campbell, Tiarnan McBride
By fourmasterspro
Thu 11th May