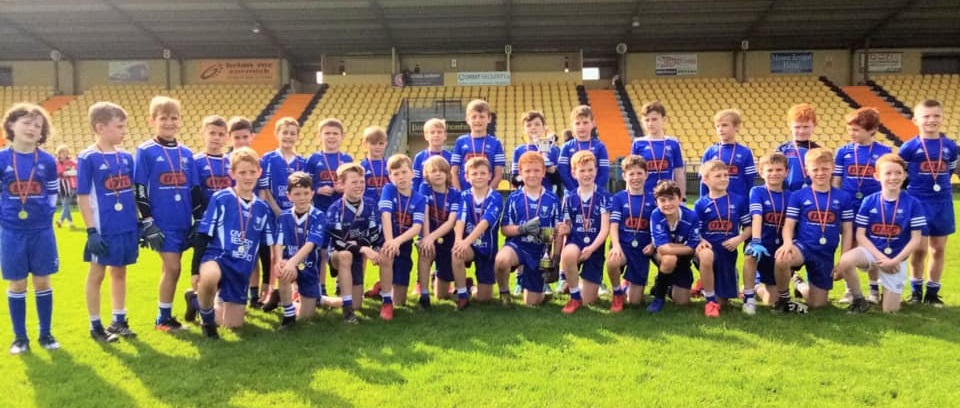 Another outstanding outing on Saturday 28 September 2019 in St Eunans saw our U9 and U10 boys bring home more silverware from the Gary Doyle Memorial competition at St Eunans, Letterkenny.
A team Report
The lads put on another excellent display going unbeaten all day.  Our first game saw us pitted against our finalist opponents from last week in the SRB tournament Ardara.  The boy's played great football displaying excellent tackling and shooting to emerge 8-3 victorious.
On to our second match against Letterkenny Gaels our finalists opponents from the Letterkenny Gaels tournament was a real tight match.  We put on an excellent defensive display but missed some scores. Never the less in the end we managed to squeeze out a 4 points to 3 victory and learn from it.
Into our third game again against St Eunans the finalists from the Joe Larry Tournament was another battle with both sides going at full pace and fighting it out for a draw 7 points each.
Our fourth and final game against Glenswilly was another exciting match,the boy's showed great perseverance to emerge with another victory 11 points to 7.  This meant we topped the group and into a final against second place St Eunans.
Again another final against the host club for the third consecutive tournament.
This was an fantastic match for the crowd in the stands to watch with both team's showing all their skills in a very evenly contested game. It was point for point up to halve time but in the second halve Four Masters stretched out a 3 point lead.  St. Eunans being the worthy opponents came back to level but hard as they tried could not get ahead.
Four Masters were composed and unfazed by the large support for the home team eventually finished off the match 12 points to 11.  We had the full squad today meaning we had five subs.  Everybody played a crucial role playing in different positions when needed and doing what was asked of them when they got on the pitch.
Our captains on the day Kian Gallagher and Fintan James lifted the cup to great celebrations.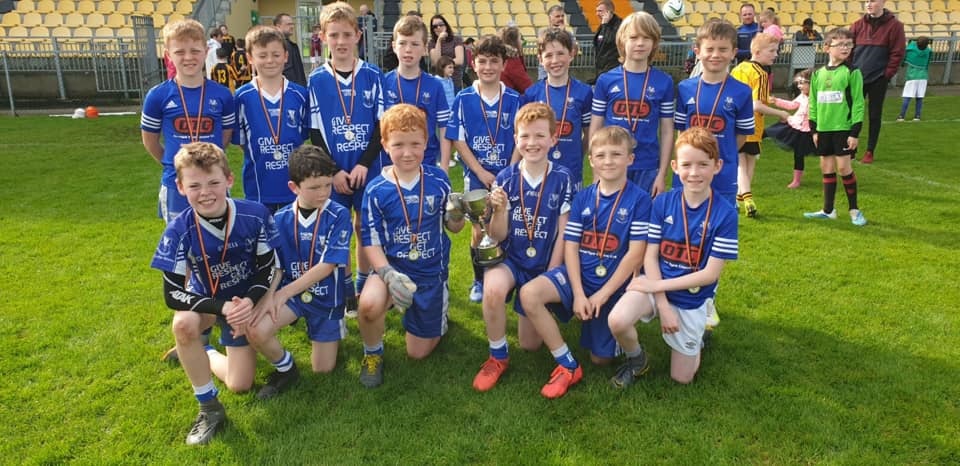 B Team Report
Our u9 team also travelled to St Eunans today for the Gary Doyle memorial cup and emerged as victors.
In our opening game of the tournament we defeated a gallant Ardara side. Our next match pitted us against a highly skilled and tenacious Letterkenny Gaels.  In an end to end game the score at half time read 2 a piece, the second half continued to be a low scoring affair with both defences on top but some opportunity scoring by the eager Conal Parsons and Brandon Armstrong got the desired result 4-2 to the Masters.
We played the hosts St Eunans in our third game and again gave a good account of ourselves, with excellent displays from Aaron Perry, Noel Lorinyenko and Cathal Campbell seeing the boys over the line.
Our close rivals throughout this year Glenswilly awaited us in our third group game and again this proved to be another thrilling match between these two young sides finishing in an exciting 4-4 draw. The strength in depth of the young Masters squad came to the fore on this occasion with Shay Reynolds, Shay O'Sullivan and Cian Plunkett to the fore.
Letterkenny Gaels awaited in the cup final and this proved to be another ding dong affair. Masters raced into an early lead but were quickly pegged back at the start of the second half to 4-4 a piece. A feature of this team is their battling qualities when needed and a quick free kick from the industrious Jay Cullen to the over lapping Dylan Byrne who finished with aplomb to the roof of the net and set up the platform for victory.  A few more unanswered points sealed victory.  Noah Kennedy in goals was again Mr consistency with Cameron Crawford and Senan Gallagher defensively brilliant. Iarla Cassidy and Xavier Bujnowski were colossal and real driving forces. Daire O Donnell and Ordhran Plunkett kept the score board ticking over when needed and played everybody played their hearts out all day. Noah Kennedy and Dylan Byrne were joint captains for the day and lifted the cup on behalf of the team.
Huge thanks to St Eunans for their generous hospitality and congrats on a great day of football played in both a healthy competitive and sporting manner.
As always thanks to all the parents who came over and supported the kids.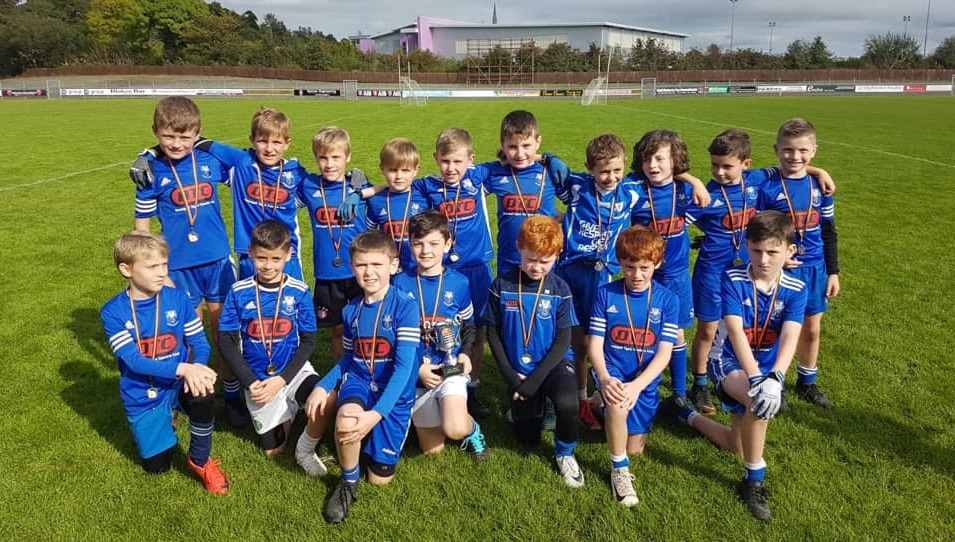 By fourmasterspro
Wed 2nd Oct