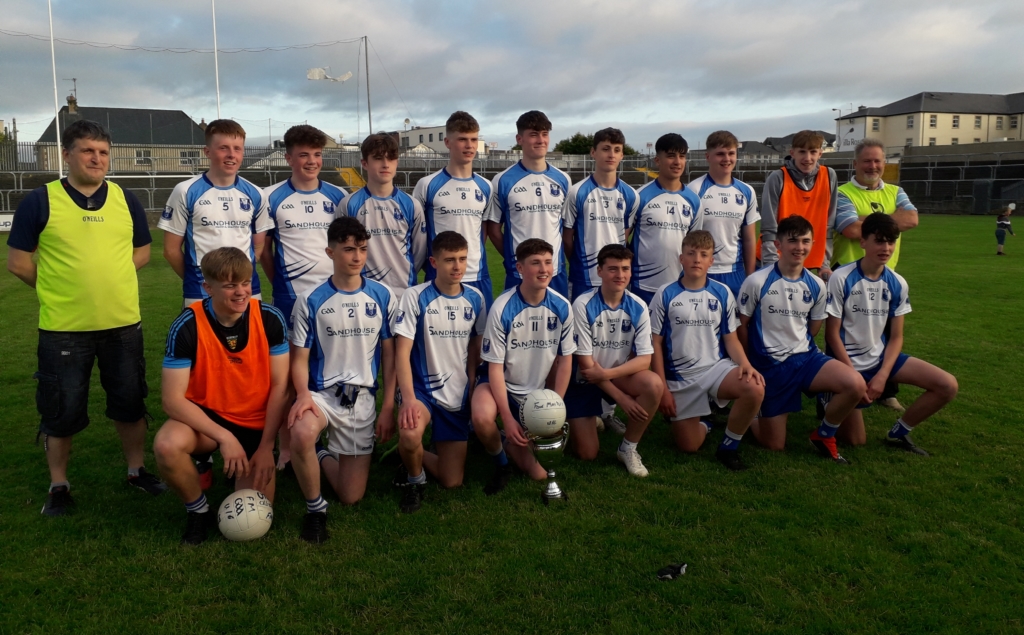 Our u16s added the County Division 1 League title to their Southern Regional title with a 0-17 to 2-08 victory over Buncrana in MacCumhaill Park on Wednesday 26 June last.  Missing a number of the team's regulars through injury and holidays, it took our lads about 10 minutes to settle into the game. Notwithstanding the strong breeze against them it was Buncrana who settled first, with Kevin Jordan scoring a fine point from play followed by another from him from a free.  In the fifth minute Dermot Slevin opened our account with a fine score off his right, to raise a white flag, but Buncrana responded quickly with Oisin Porter pointing for the Inishowen boys.
From the tenth to the twenty-fifth minute our boys dominated the exchanges with the impressive Senan Quinn excelling in the midfield; putting on an exhibition of high fielding from kick outs.  When those balls were directed away from Senan it was then Ultan O'Grady, Conor Reid and Ethan McNulty who were winning their exchanges in the middle third.  
This possession was put to good use with fine movement and quick passing creating chances, which yielded five scores at the start of a devastating spell of scoring with Dermot Slevin kicking four and Ultan O'Grady raising the other white flag.  Buncrana then had two attacks that were quickly broken up by the fine work and good tackling of Ross O'Keeney, Josh McCrea and Liam McLaughlin.  It was from one of these turnovers that our boys showed great composure in holding possession in our defense, before working the ball back to Oisin McCallig inside the 21 who found Conor Reid with a 40 yard foot pass who in turn gave a lovely long pass to Dermot Slevin who added another point.
The boys continued to press home their dominance and a rasping Senan Quinn shot was deflected by Rory Scott, the Buncrana keeper, and after seeming to defy gravity and balance on the crossbar the ball eventually dropped for a point.  This was followed by a scramble near the Buncrana goals and Conor Gillespie, whose movement was causing problems for the defense, was unlucky that his shot was deflected away from goal before the ever eager Jack Myers snapped up the loose ball to set up another Masters point. 
Next came another fine passing move that saw Conor Reid kick a point from 25 yards, before Kevin Jordan broke the run of Masters scores with a Buncrana point.  Our boys tacked on two further pointed frees through Dermot Slevin, following fouls on Conor Gillespie and Conor Reid.  Buncrana launched two final attacks before half time and when Ross O'Keeney and Oisin McCallig combined to smother a goal chance it was Oisin Crawford from a 21 yard free who added Buncrana's last score of the half, leaving a halftime scoreline of 0-13 to 0-05.  Buncrana would enjoy the advantage of the breeze for the second half.  
Dermot Slevin extended our lead with two quick points on the resumption to go 0-15 to 0-5 clear, but Buncrana driven on by Oisin Crawford in the middle of the field struck for the first of their two second half goals.  The first came when full-back Oisin Kelly netted after a lung busting run from Michael Bernard McLaughlin, and then Matthew Daly smashed home the second goal two minutes later the Inishowen boys were back in the game.  The margin was now down to four points and when Kevin Jordan and Oisin Kelly quickly added two more points the margin was down to two.  We led 0-16 to 2-8 with a quarter hour remaining.
But that is a close as Buncrana got.  Our boys settled again and with big defensive performances from Liam McLaughlin, Josh McCrea and Ross O'Keeney coupled with effective running out of defense by Frank Cornyn, who did very well in the unfamiliar number six position, and Evan Gallagher we regained a foothold in the game.  Ethan Potter and Adam Maziri were also beginning to find success winning and holding possession in the forward line and the movement of Dylan McHugh added another dynamic in the second half.  
We were unfortunate not to come away with a score when a fine move involving Evan Gallagher, Ethan McNulty and Adam Maziri created a scoring chance, only to be snuffed out by the Buncrana defense.  Buncrana were not without their chances however fine fielding from Ethan McNulty and Evan Gallagher on the right wing ensured we were able get primary possession in those closing minutes.  
The only score of the closing quarter went our way when a passing move involving Ultan O'Grady, Liam McLaughlin, Conor Reid and Frank Cornyn put Dermot Slevin into space and he kicked the point to give us a three point lead in the twenty-sixth minute.
Buncrana pressed late on and they almost salvaged a draw with Ross O'Keeney clearing off the goal line after a goal bound effort deflected off Oisin McCallig.  This was the last action of the night and the final whistle blew with the under 16 County Division 1 League title making its way back to Four Masters for the first time since 2005.
As with all league titles this was a squad effort over a series of games, and it was unfortunate that a number of lads were away or unavailable to play on the night.  Those included; Leo Carey-McDermott who helped on the sideline despite being on crutches; Diarmuid O'Domhnaill, Andrew Monahan, Jamie Gorrell and Mark Jordan who were highly influential in getting the boys to the final; and Adam Gillespie, Michael Gallagher, Dan Dunnion, Hugh McDonnell, Patrick Lyons and Daniel Quinn who all contributed to the 2019 campaign.  
FOUR MASTERS: Oisin McCallig; Josh McCrea, Ross O'Keeney; Evan Gallagher, Frank Cornyn, Liam McLaughlin; Senan Quinn (0-1), Ultan O'Grady (0-1); Ethan McNulty, Dermot Slevin (0-14,7f) (c), Conor Reid (0-1); Conor Gillespie, Jack Myers; Dylan McHugh; Ethan Potter.
BUNCRANA: Rory Scott; Fionn McColgan, Oisin Kelly (1-2), Oran McBride, Ryan Doherty,Shane Sarsfield, Oisin Crawford (0-1), Michael B McLaughlin, Cillian Downey, Kevin Jordan (0-4,1f), Matthew Daly (1-0), Oisin Porter (0-1), Sean Doherty.
REFEREE: Mark Dorrian
[envira-gallery id="10425″]
By fourmasterspro
Sat 29th Jun