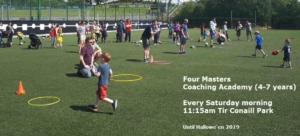 Our final academy session of 2019 took place Saturday morning 26 October 2019 in Tir Chonaill Park.  Our boys and girls had a great year being coached by Emlyn, Noel and their team of excellent coaches.
Thanks to all our helpers, TY students and parents for their support during the year and to Helena, Regina, Shirley and Anne for assisting with registration.  Thanks also to Columba Mc Garvey and Abbvie who kindly sponsored our academy this year.  Mary Canavan, Bord na nOg and the Senior Board were very helpful in facilitating our Saturday morning sessions and we are lucky to have such great facilities at our disposal.  Thanks also to Mark Perry who is very generous with his time in taking photos on behalf of the club.
We hope all of our Club Na gCeithre Maistri children enjoyed the year and we hope to see you all back next year!